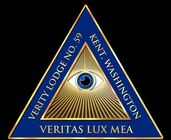 Verity Lodge No. 59
​Kent, Washington
Quality Masonic Experience

Verity Lodge No. 59 strives to create an environment which Masonic studies are deeply interwoven with degree work and overall culture of the lodge.

We are committed to the idea that Freemasonry, in order to be relevant, must be put into meaningful practice in the lives of its members.

Our lodge endeavors to restore the focus on a quality fraternal, educational and social experience for each individual Mason determines the uniqueness and effectiveness of the lodge.

Masonic Restoration
The fraternity is, above all else, an initiatic order whose main purpose is to teach good men to subdue their passions, become masters over themselves and grow in life to be better men.
We encourage serious reflection on the historical intentions through a carefully maintained atmosphere of fraternal respect, individual exploration and general conviviality. It is by means of this sincere and thoughtful fellowship that we hope to understand the Craft in its full historical and philosophical depth.

BrotherhoodIn today's day in age, it is increasingly difficult to define what it means to be a man. Yet for centuries, the masonic fraternity has offered men a better understanding of life, manhood and service to his fellows.
The brothers of Verity Lodge No. 59 work hard to observe the historical intentions of the founders of speculative Masonry.

We believe each degree conferral we conduct is a once in a lifetime event for our candidates and should be treated as such. In addition, special attention is given to Masonic education and improving fellowship among members of our Lodge.

Verity Lodge No. 59

seeks those men who are willing to dedicate their time, energy and lives to this fraternity. Why? Because Freemasonry is an ongoing process and it should permeate all areas of a Mason's life. Freemasonry is a lifelong endeavor that need not be rushed. Only those who are willing to work towards the ideals of Freemasonry should consider becoming a Freemason.